Headline

Home > Headline
His Majesty Calls For Evaluation of Religious Education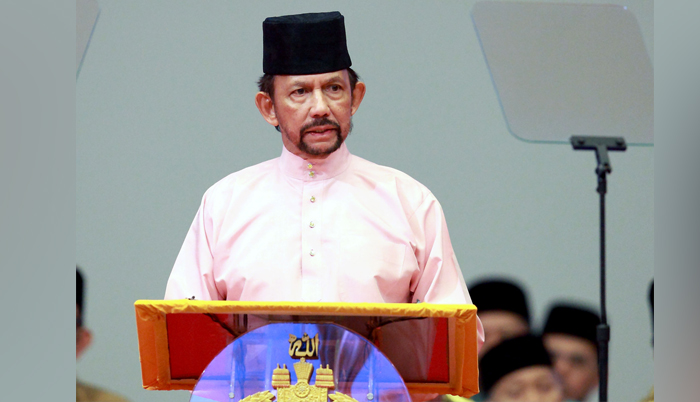 His Majesty Sultan Haji Hassanal Bolkiah Mu'izzaddin Waddaulah ibni Al-Marhum Sultan Haji Omar Ali Saifuddien Saadul Khairi Waddien, the Sultan and Yang Di-Pertuan of Brunei Darussalam delivering a titah at the International Convention Centre in Berakas last night. |PHOTO COURTESY: Haji Ariffin Mohd. Noor / Morshidi, Hamzah Mohidin, Mohd. Sahrizal Haji Said

March 10th, 2017 | 07:08 AM |

1511 views
Bandar Seri Begawan
His Majesty Sultan Haji Hassanal Bolkiah Mu'izzaddin Waddaulah ibni Al-Marhum Sultan Haji Omar Ali Saifuddien Saadul Khairi Waddien, the Sultan and Yang Di-Pertuan of Brunei Darussalam in a titah calls for the constant evaluation of the effectiveness of subjects at religious and conventional or public schools.
This is because a study on the quality of Quran reading and correctness in performing prayers among pupils and students at all levels of schooling and studies is very alarming. His Majesty also warns that those who organise programmes and events must take into account the obligation of the participants to perform prayers, and that if they had neglected considering the obligation to pray, do not repeat it.
The Monarch delivered the titah at Announcement of the Results and Prize Presentation Ceremony of the Finals of the National Quran Reading Musabaqah For Adults 1438 Hijrah/2017 at the International Convention Centre in Berakas last night. Touching on the said study, His Majesty says it was undertaken by the Ministry of Religious Affairs and the Ministry of Education, following His Majesty personal request last year. According to His Majesty the result of the study showed about 81% of pupils and students do not pray consistently, while 4% never prayed at all. In Quran reading, only 41% read the Holy Book consistently, while 65% feel they are still unable to read the Quran with proper Tajwid or the correct pronunciation and intonation. His Majesty stresses that the statistic is indicate that teaching of prayer and Al-Quran still need to be given serious attention.
---
Source:
@BRUDIRECT.COM
by BRUDIRECT.COM
If you have any stories or news that you would like to share with the global online community, please feel free to share it with us by contacting us directly at pr@brudirect.com